Images&Co
Images&Co is a design and communications group. Our work includes brand strategy and design, naming, application development, creative technology innovation, placemaking, content creation and publishing. Our interests include cities, culture, education, politics and industry.
The opportunities for communicating information, stories and content have grown beyond measure with digital technology. All organisations can be publishers and broadcasters. Staff communicate on behalf of their organisations,  producing literature, presentations and content. External suppliers create specialist communications in multiple channels to help organisations achieve their goals.
Connected communications ensures that organisations and their audiences benefit from these opportunities.
The more people are involved, the greater the risk that an organisation's voice becomes unclear and inconsistent, undermining how it is perceived and how well it serves its audiences. Yet we want communications to be dynamic. We want to unlock, not suppress the talents of co-workers and collaborators.
Images&Co has industry-leading expertise in all types of media and environments, including print media, book publishing, packaging and marketing, film and television, animation, web content, exhibitions and public spaces including cities and airports, virtual and immersive environments. This enables us to help our clients and partners create effective and connected communications, empowering staff and suppliers to make the best of their contribution in the distinctive voice of the organisation.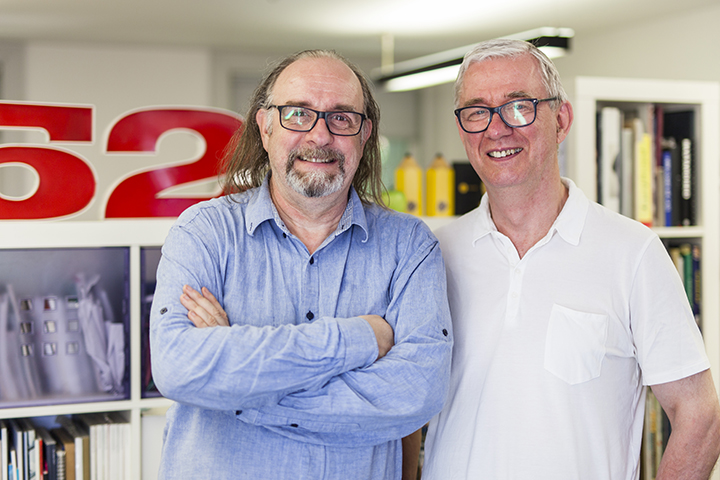 Images&Co is built around the creative partnership of the designer Malcolm Garrett and writer Kasper de Graaf, who began their collaboration on the magazine New Sounds New Styles, which Kasper edited and Malcolm designed.
In 1983 they established the first of the new wave of design studios in Shoreditch with their company Assorted Images, creating many of the iconic pop culture images of that period (Duran Duran, Culture Club, Peter Gabriel, Simple Minds, Heaven 17 and many others) and experimenting with computer-aided design and early desktop publishing.
A decade later Malcolm switched his focus to pioneering "new media" design and Kasper to content production and exploring the voice of the space – how environments communicate. Malcolm established one of the first digital tech companies in Shoreditch, AMXdigital, with Alasdair Scott in 1994, working with diverse clients from Barclays Bank to The Spice Girls. Kasper worked with artists including Steven Appleby and Brian Wood to develop TV animations, with Paul McCartney on documentaries and early global webcasts, and with public institutions such as museums and hospitals on wayfinding and environmental communication. In the early noughties Malcolm spent some years in Canada as a creative director at Immersion Studios, on projects such as Canada Virtuel, the country's contribution to Japan Expo 2005.
Kasper and Malcolm came back together to develop a venue digital content channel at Warwick Arts Centre in 2005. Between 2005 and 2010 they collaborated in the information design consultancy AIG London – Malcolm as creative director and Kasper as MD – on projects such as Legible London and the UK Border environments in ports and airports.
In 2011 they established the interactive media design partnership 53K in the South London Technopark. Two years later 53K merged with Fabric Interface to become Images&Co.
Malcolm and Kasper are both directors of Design Manchester, the organisation behind Manchester's annual festival of design which is now in its fifth year.