London-Shanghai Interns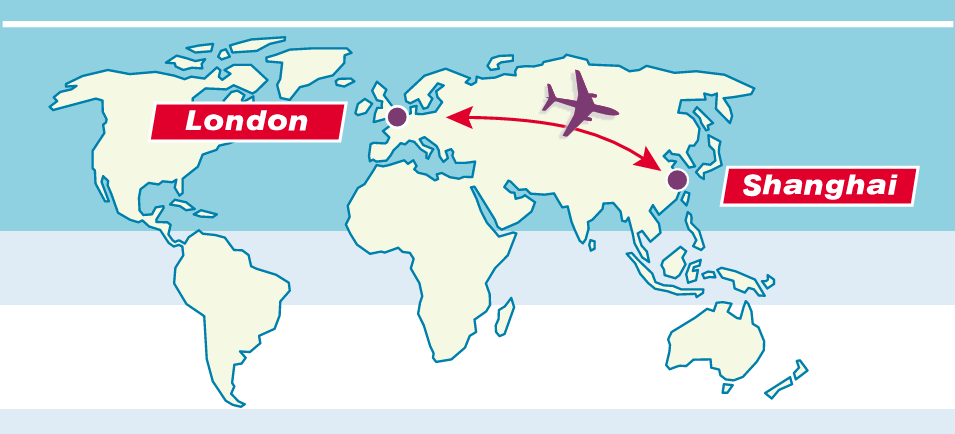 TTI is a joint initiative of Kingston University and Shanghai Jiao Tong University, with the support of employers including BBH and PriestmanGoode, to offer creative industry internships in the partner city. Images&Co has developed a brand and website to promote the initiative and enable the students to share their experiences.
City identity debate
Politicians and designers participated in a debate about city identity, directed by Kasper de Graaf as part of Design Manchester's festival in October 2016.
The Sharp Project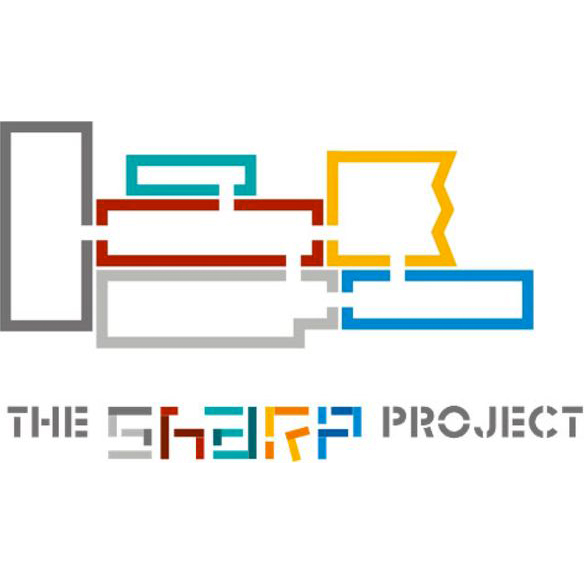 The Sharp Project is Manchester's home of digital content and a major centre of the city's vibrant creative industries. Using a diagram of the facilities to illustrate its flexibility and diversity, the corporate identity of The Sharp Project was created by Malcolm Garrett.
Locanda Locatelli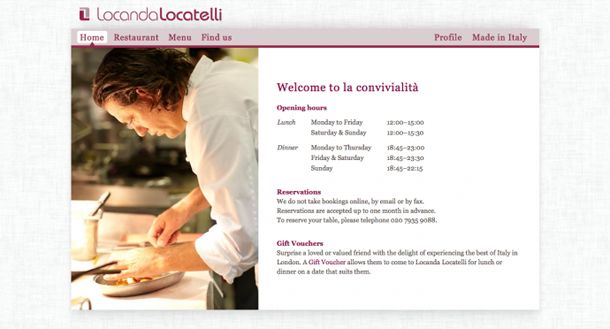 Locanda Locatelli is London's top authentic Italian Michelin-starred restaurant. The website developed by Kasper de Graaf, Malcolm Garrett and James Lefrère, captures the classic, stylish and convivial nature of Giorgio and Plaxy Locatelli's award-winning establishment.
Birmingham Children's Hospital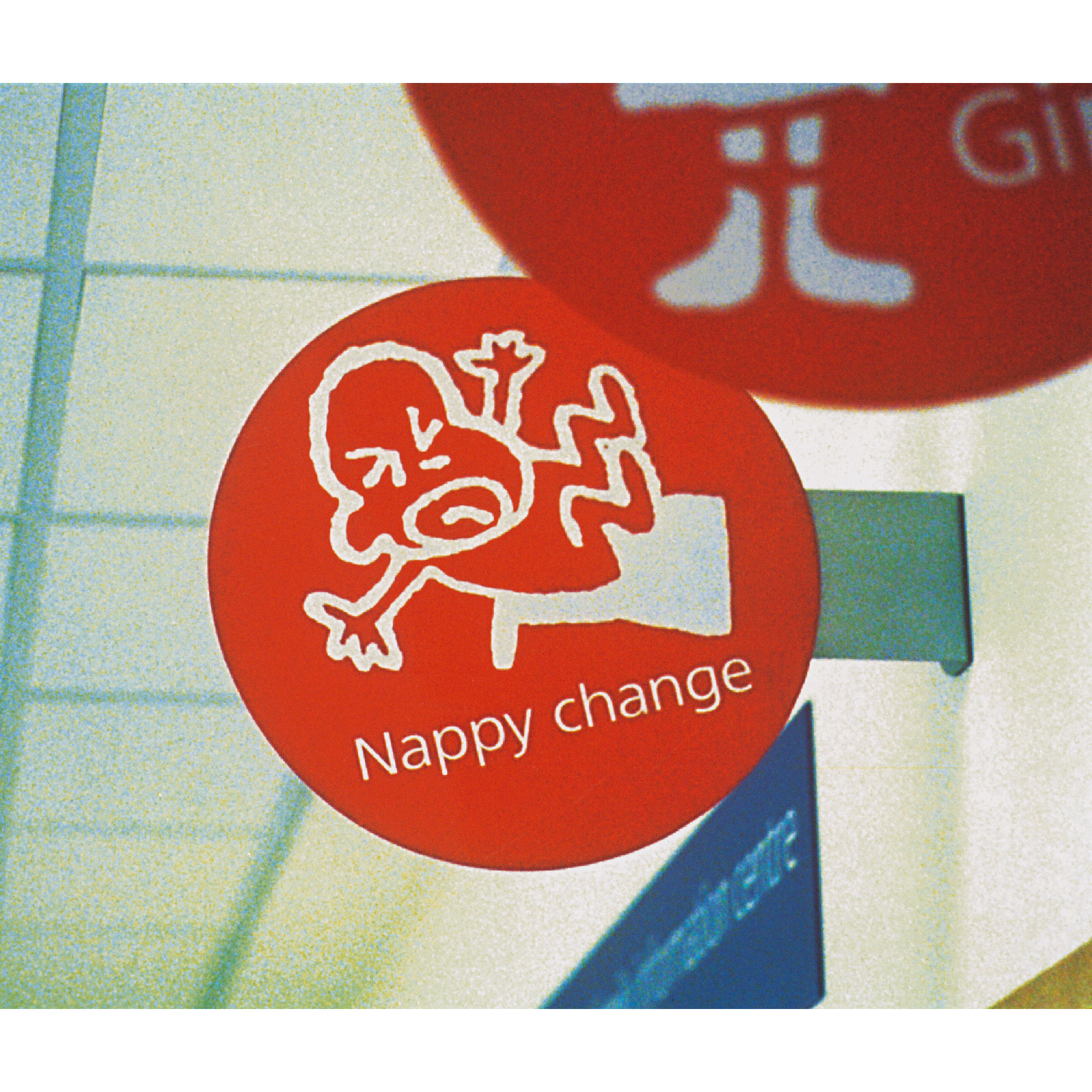 When Birmingham Children's Hospital moved from Ladywood to the completely modernised Victorian general hospital at Steelhouse Lane, Assorted Images worked with architects Powell Moya to create an award-winning, accessible signage and information scheme for a community with eight principal languages. Key members of the Images team: Norman Hathaway creative director, Kasper de Graaf executive producer, Donat Raetzo, Karin Wichert and Aleen Toroyan designers, Alice Phipps project manager. Services signs illustrations by Satoshi Kitamura.
London International Hospital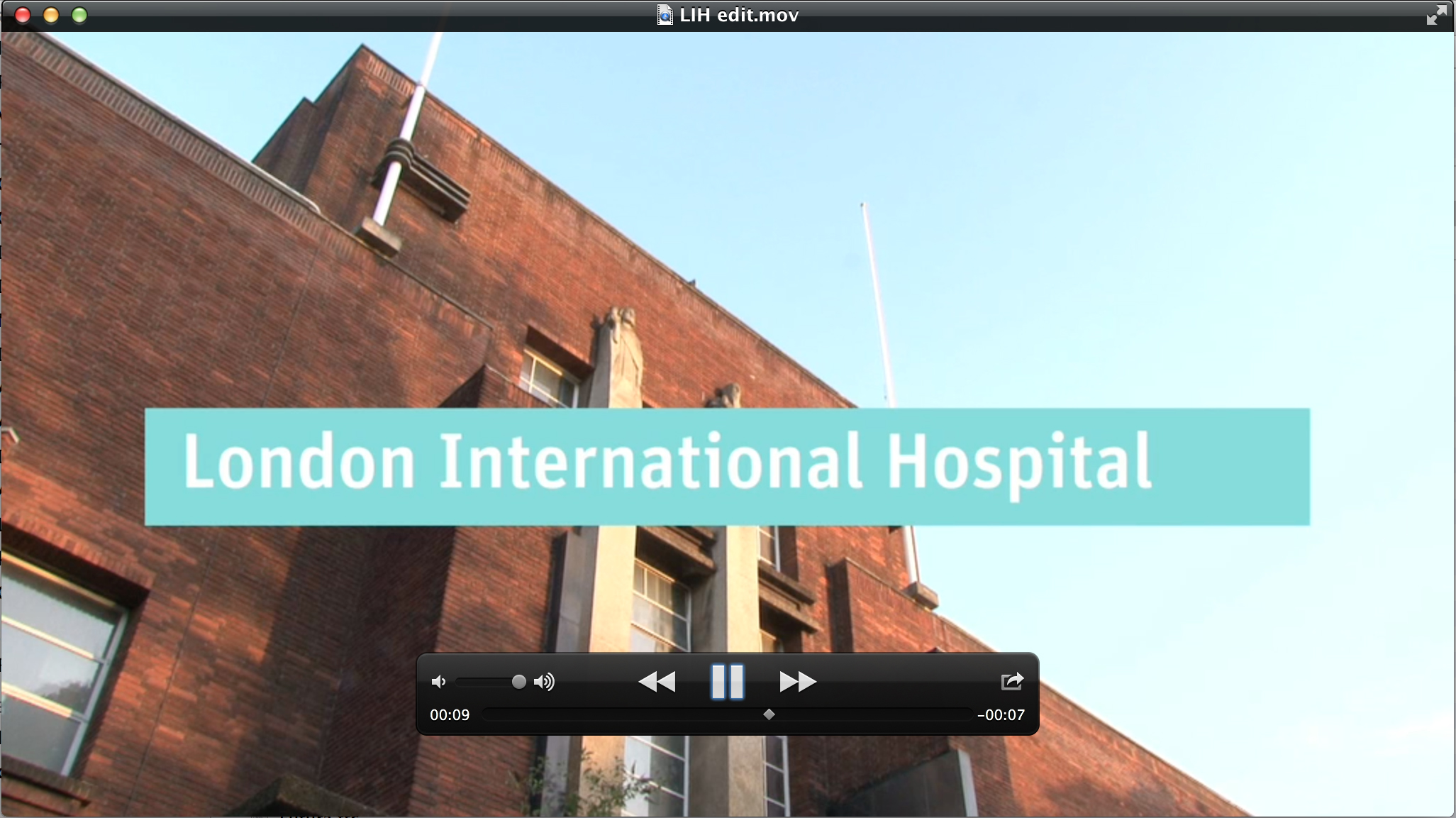 London International Hospital is a project to develop a global centre of excellence for the treatment of cancer and diseases of the heart and brain. Its chairman, Lord Hameed, asked Kasper de Graaf to develop a range of communications to support the business planning and funding process. Kasper produced a documentary film about the project, directed by Gilly Booth at Hijack.
Warwick Arts Channel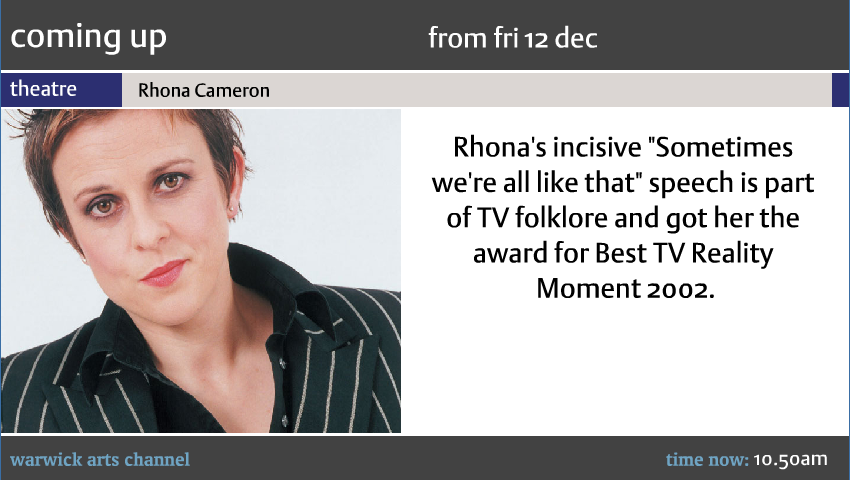 Kasper de Graaf developed the Warwick Arts Channel to deliver live streams, film, scheduled event information and live messaging to displays throughout Warwick Arts Centre. Interface design by Malcolm Garrett and development by Digit for Assorted Images.
The Sharp Project - exterior

The Sharp Project in Manchester is one of the country's premier locations for making digital content. The identity was designed by Malcolm Garrett. The complex is not only home to more than 60 creative companies and production facilities, but also hosts the world's largest regular CoderDojo club for teenage coders.
Science Museum Basement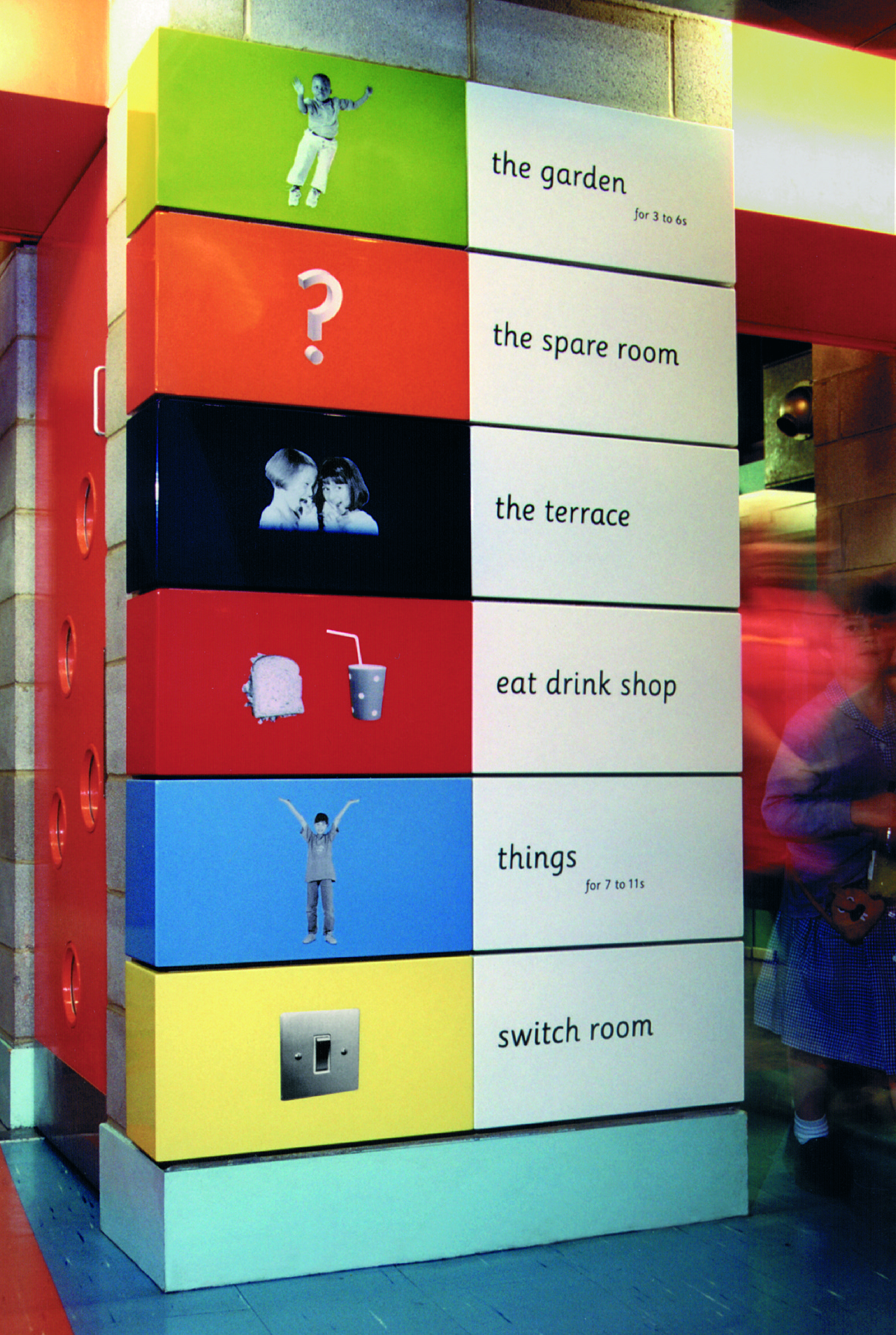 The award-winning signage and environmental graphics for the Science Museum Basement Galleries were created by Assorted Images. The interior design was by Ben Kelly at BKD. The Images team included Norman Hathaway (creative director), Kasper de Graaf (executive producer) and Sy-Jenq Cheng (designer). The directory sign – fabricated using flat colours and images baked in vitreous enamel – still looks brand new more than 15 years after installation.
Hotel Café Royal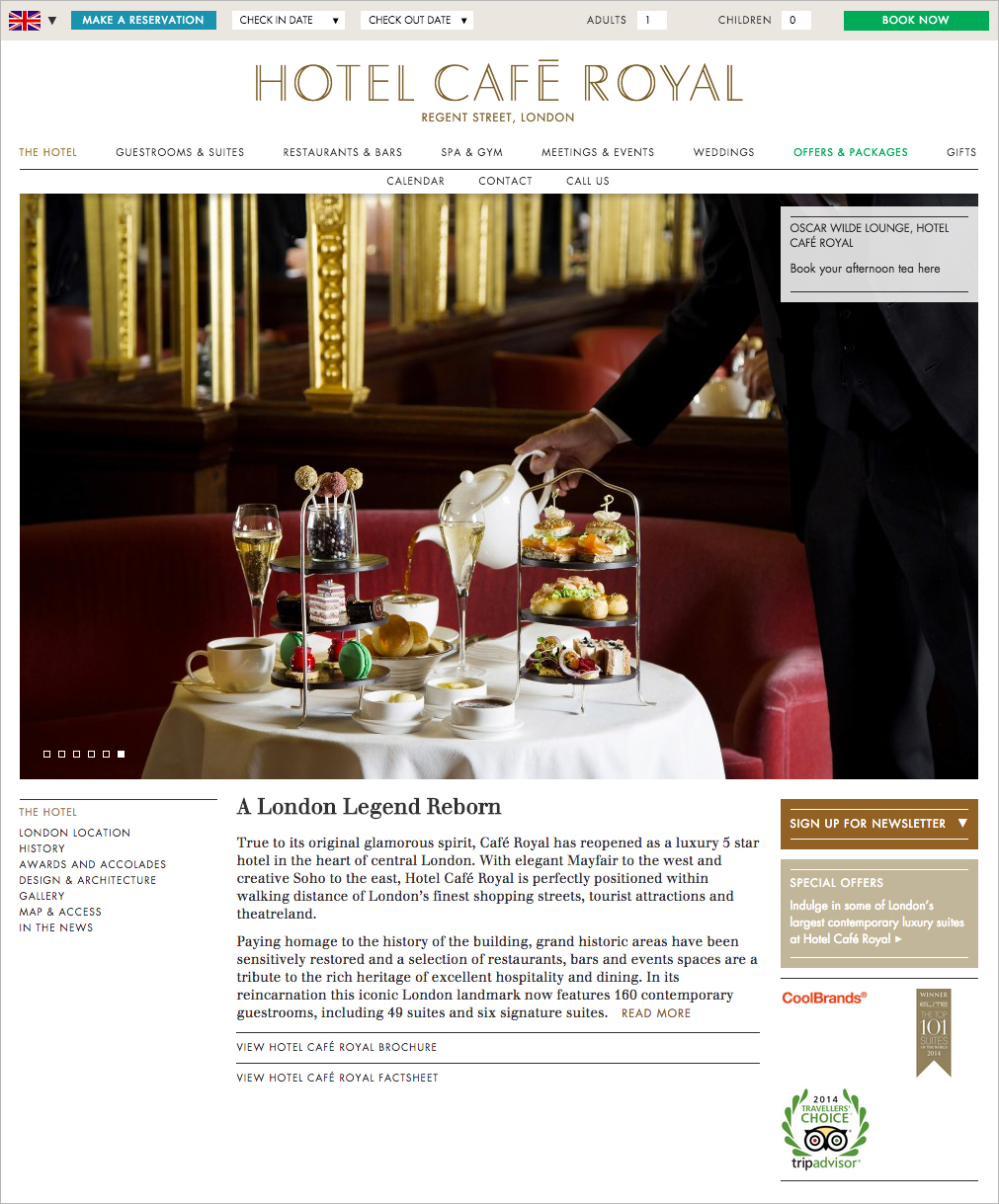 The Café Royal is one of London's best known venues, recently redeveloped as a luxury hotel. The website is presented in eight languages to global visitors, with functionality including room and suite booking, luxury spa, events calendar, meetings and conferences and a host of other services. Clare Kristensen and Uzma Afzal work closely with the hotel marketing team to provide guests and visitors with up to date information and a top quality user experience.
Not just 4 anoraks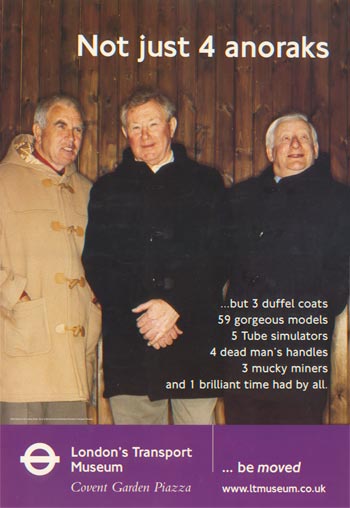 Marketing campaign for the London Transport Museum in Covent Garden by Kasper de Graaf (concept and copywriting) and Garry Mouat (design and art direction), photography by Bill Robinson.
Document 16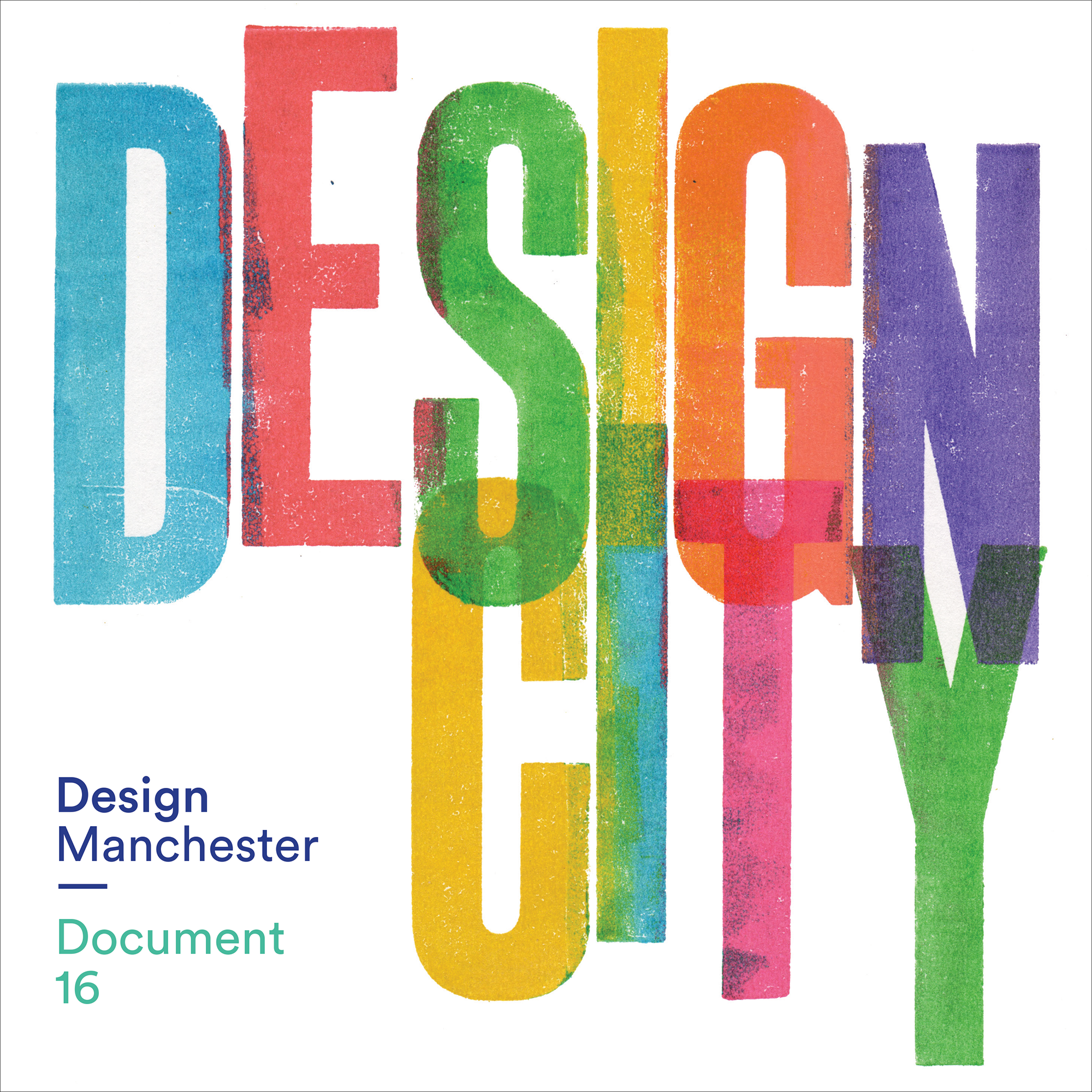 With a cover on the Design City theme designed by Alan Kitching, Document 16 is the third annual publication by Design Manchester. Edited by Kasper de Graaf and designed by Images&Co and Instruct, the 64-page magazine is packed with features, articles and images about design and the part it plays in Manchester and other cities in the north of England and beyond. The magazine was distributed to subscribers of Creative Review with its February 2017 issue.
Art and architecture degrees show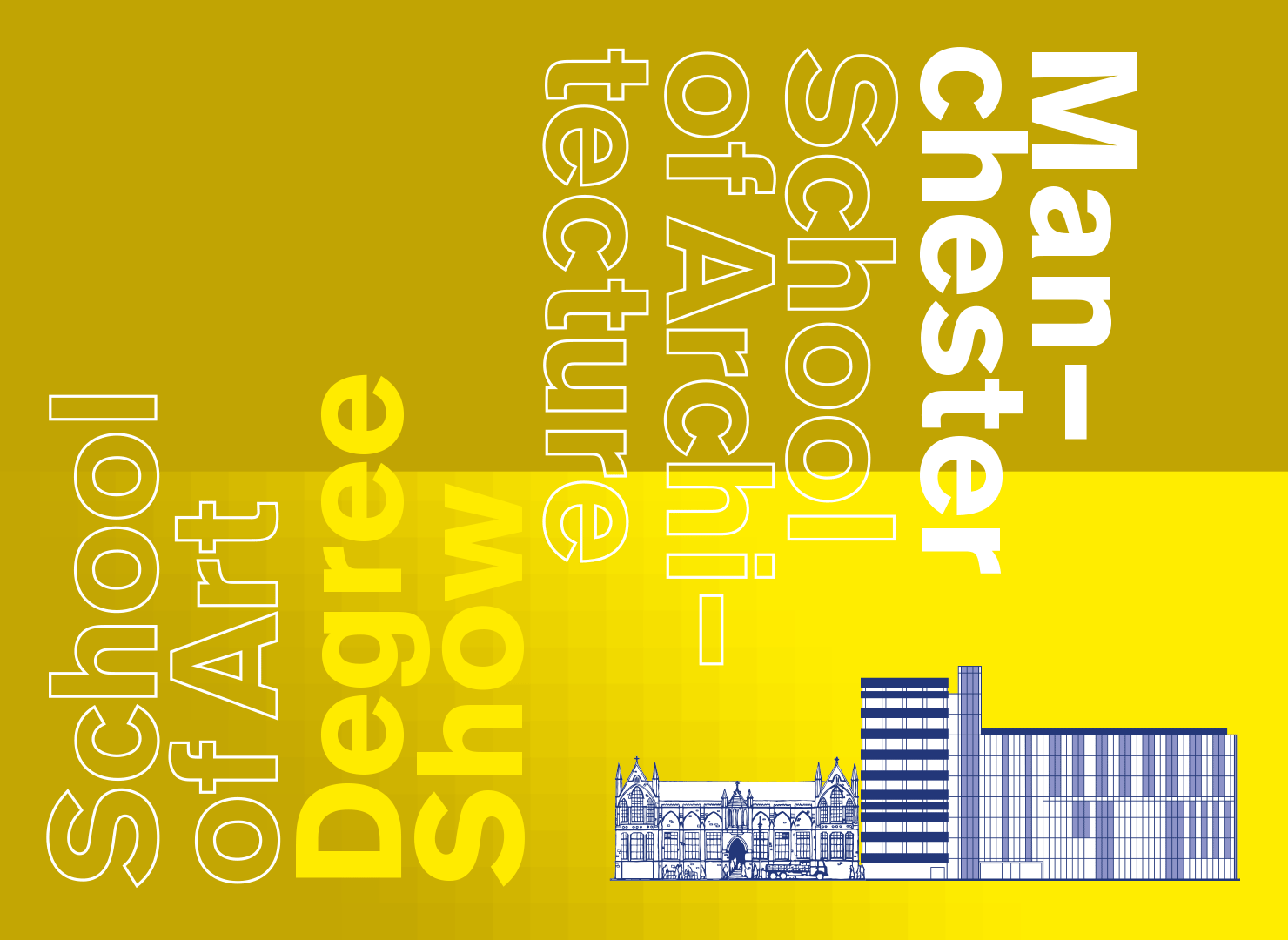 Founded in 1838, Manchester School of Art – part of Manchester Metropolitan University – is the oldest art college in England outside the capital. Manchester School of Architecture is a faculty jointly operated by Manchester Metropolitan University and the University of Manchester. When the two schools decided to hold their degree shows together in 2016, they commissioned Malcolm Garrett to create a striking identity and series of marketing materials.
Smart Cities UK Showcase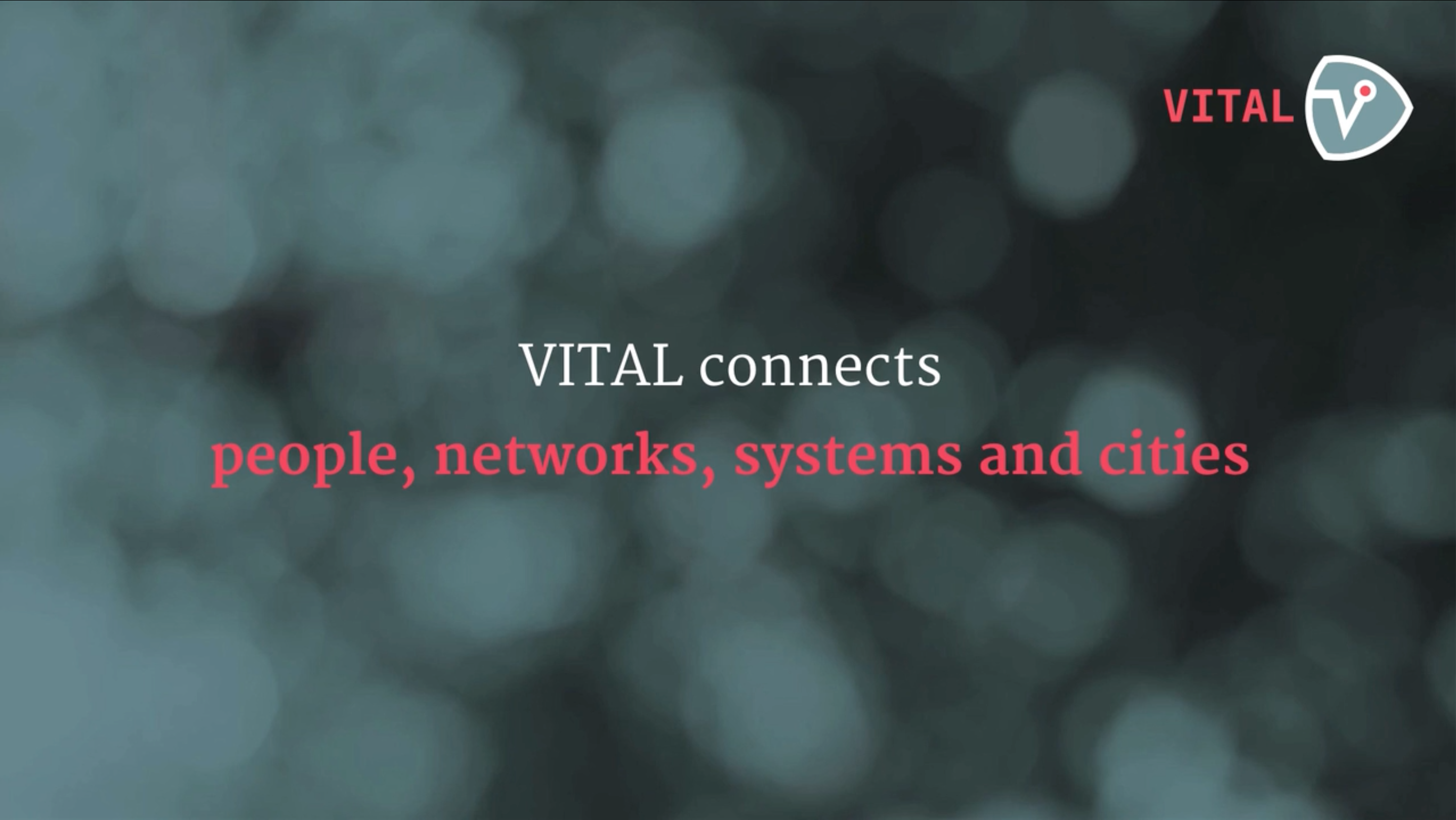 Images&Co and Camden Collective, the UK partners of the European VITAL IoT consortium, exhibited at InnovateUK / KTN Creative's Smart Cities UK Showcase on 22 February 2016. VITAL takes the next step in IoT interoperability, enabling not only data but IoT systems and city infrastructures to be integrated seamlessly. VITAL is encouraging the many diverse city IoT projects in the UK to come together and explore the idea of connected cities.
Document 15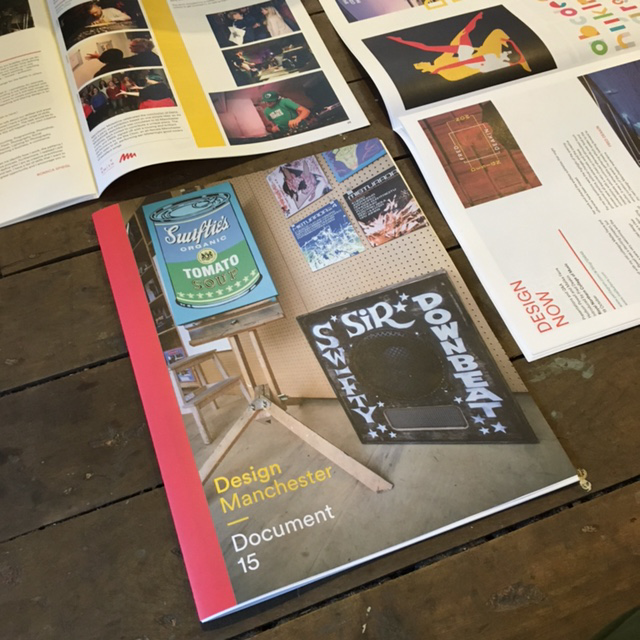 A 28-page full-colour tabloid magazine, Document 15 tells the stories of Design Manchester's DM15 Festival and looks ahead to DM16 in October 2016. Showing many of the images and designs exhibited during the festival, the magazine has contributions from many of the artists, designers and partners involved in the Festival, incuding Swifty and Fred Deaking, Jane Crowther and DesignWeek's Angus Montgomery. Edited by Kasper de Graaf, designed by Images&Co/Instruct Studios and printed by Galloways on 120 gsm Naturalis supplied by G.F Smith, Document 15 is being distributed to design studios, design clients, festival partners and supporters.
Camden Town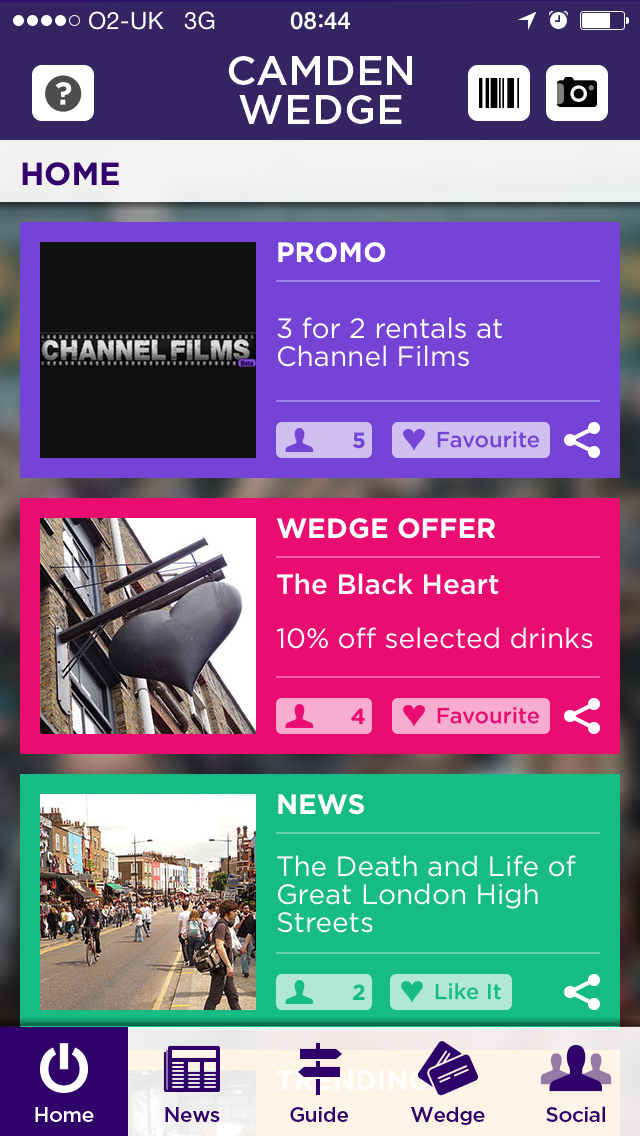 Kasper de Graaf, Alasdair Scott and Malcolm Garrett developed the Camden Wedge mobile phone app for Camden Town Unlimited, the business improvement district for one of London's most iconic neighbourhoods.
Wayfinding in Glasgow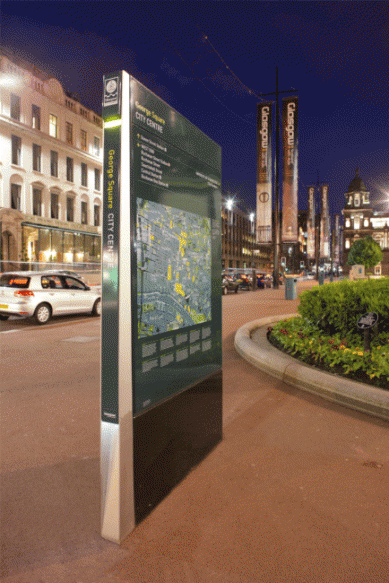 Kasper de Graaf directed the implementation of Glasgow's Pedestrian Wayfinding scheme developed by the now-defunct AIG working with Lacock Gullam. The scheme was provided by ClearChannel and comprised 80 fingerposts, 69 mapping panels and 76 information posters in freestanding advertising units.
Legible London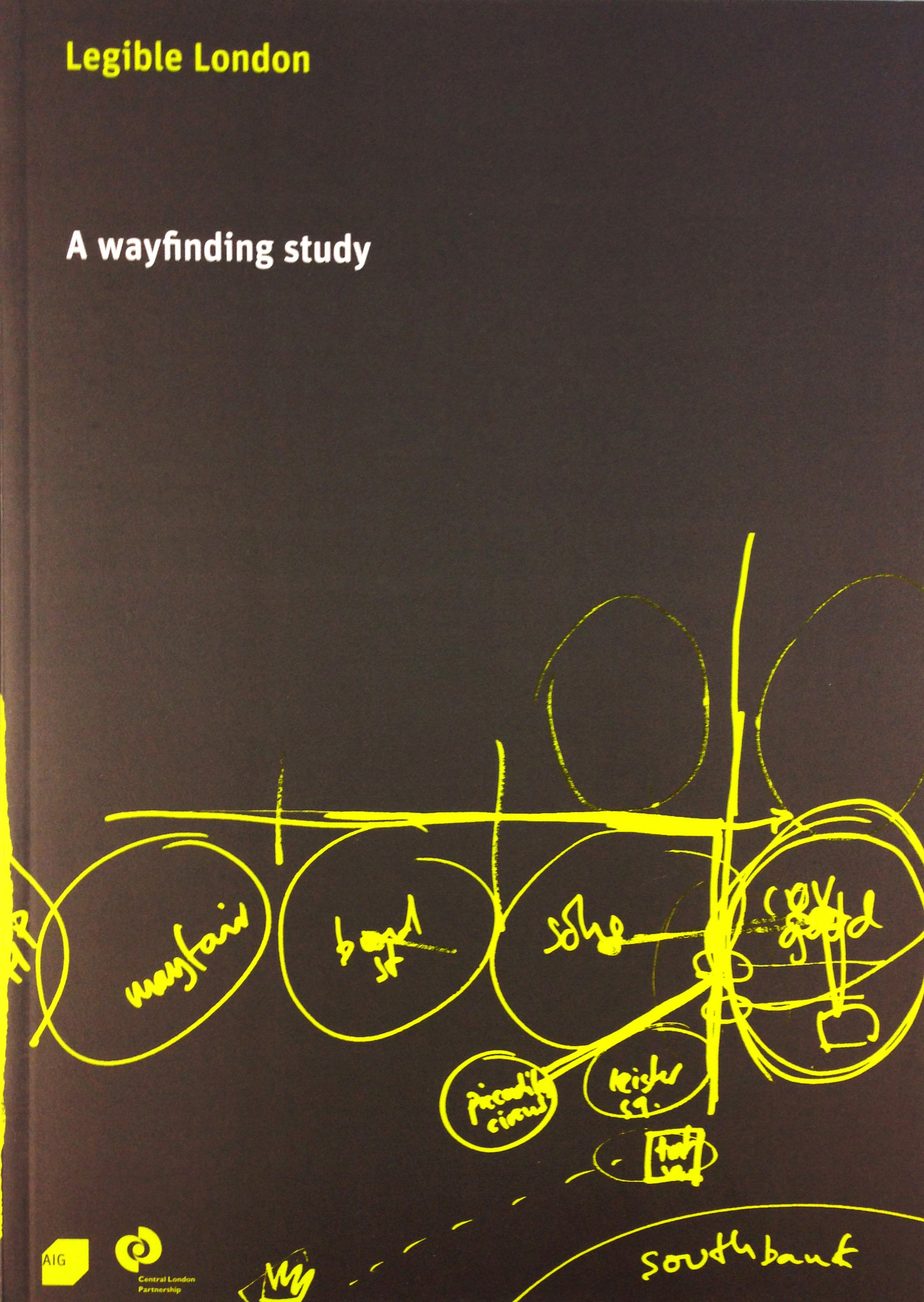 The Legible London study, written by Kasper de Graaf based on research by the now-defunct AIG London with Lacock Gullam and LSE Cities, played a key part in persuading the London boroughs to support a capital-wide pedestrian wayfinding system.
BT ArtBox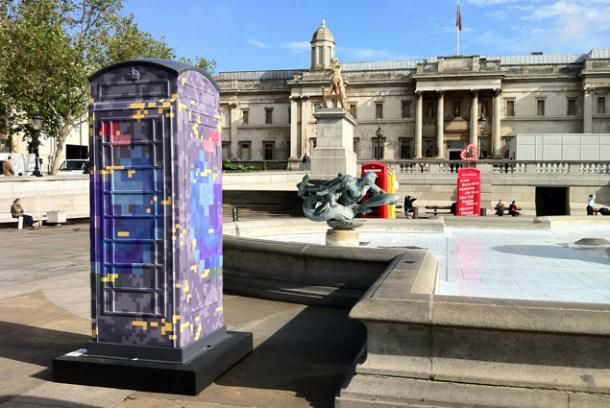 BT ArtBox was a public art project in aid of Childline, where leading artists and designers "reinterpreted" Gilbert Scott's iconic phone booths to create a compelling collection of installations throughout London. Malcolm Garrett was a patron and co-curator of the project and also created this box, Stealth, with Garry Mouat. Other contributors include Sir Peter Blake, Dame Zaha Hadid, Nina Campbell, Steven Appleby and Jason Bruges.
VITAL in Camden Town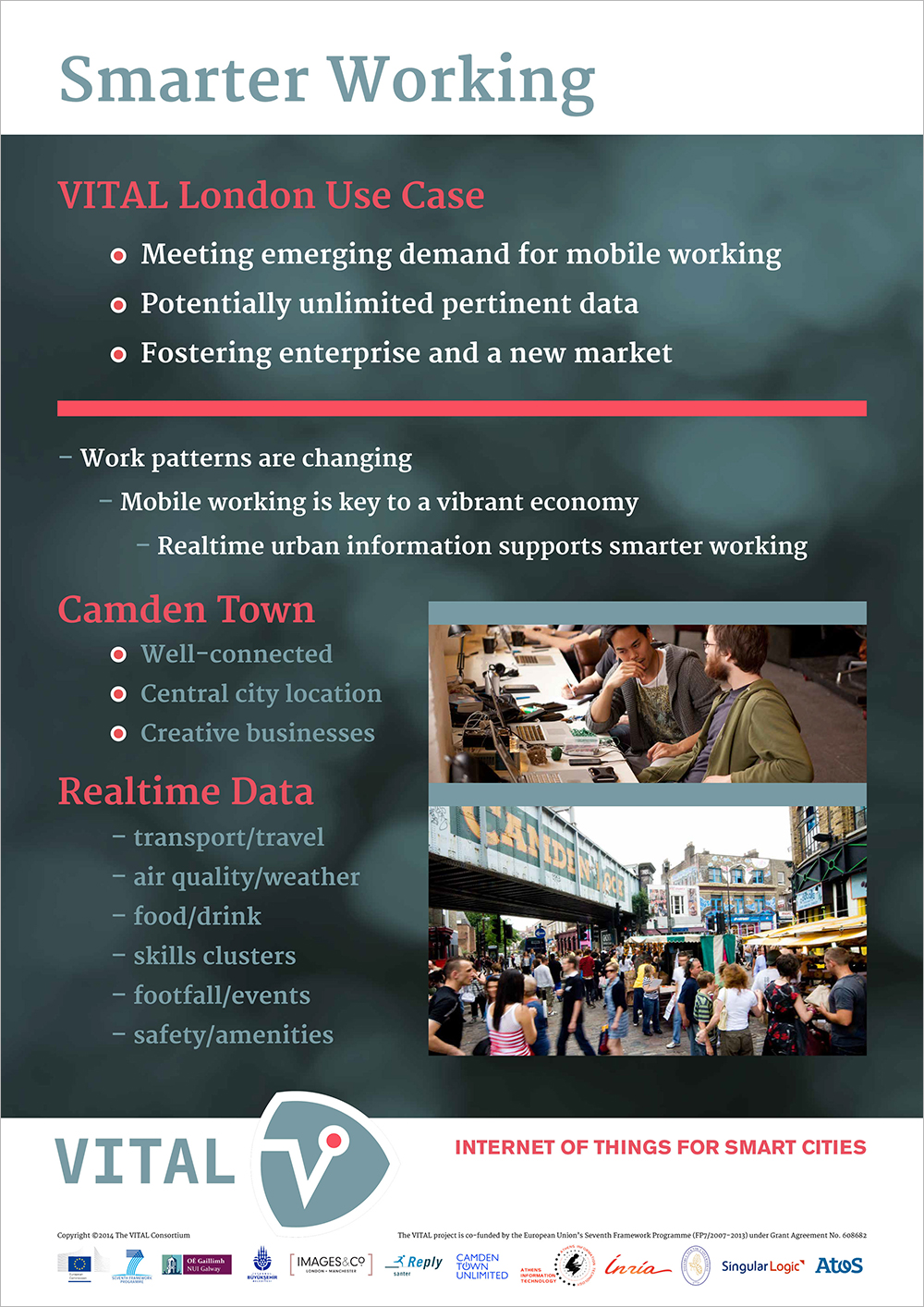 Communications for stakeholders and end users is a key part of the VITAL project. This poster explains the plan to trial new models of smarter and mobile working in Camden Town.
VITAL
VITAL is a European Commission-funded R&D project to develop an open-to-all Internet of Things ecosystem to facilitate the development of new applications for smart cities. The corporate identity and website of VITAL were created by Images&Co, with design direction by Malcolm Garrett and strategy by Kasper de Graaf.
UK Border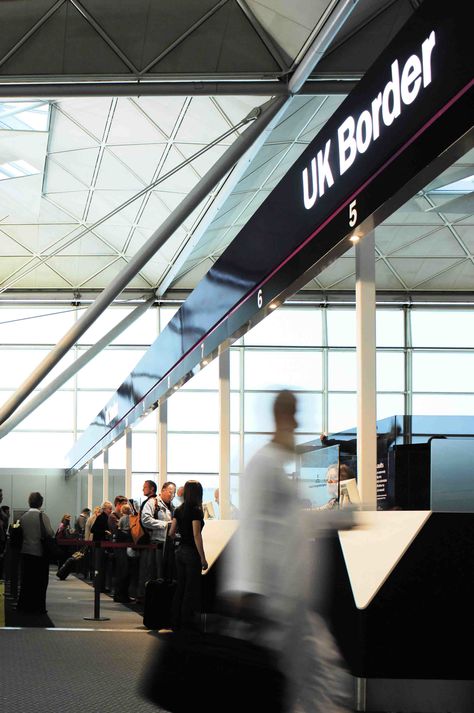 Clear instructions, information and guidance at the UK's border controls are vital to the efficiency of the process. This in turn improves the experience of people visiting or returning to the country, while enhancing the likelihood of spotting crime and illegal entry. Kasper de Graaf and Malcolm Garrett were leading members of the AIG team redeveloping the UK Border for the British government, including recommending using UK Border to name the environments – and the agency – and drawing a clear blue line on a gantry above rows of redesigned control desks.
NORTH
NORTH was a public debate held at Manchester School of Art about the creative industries' role in economic regeneration of the north produced by Kasper de Graaf. The debate was part of Design Manchester's 2014 festival, co-curated by Malcolm Garrett and John Owens.
Dublin Bus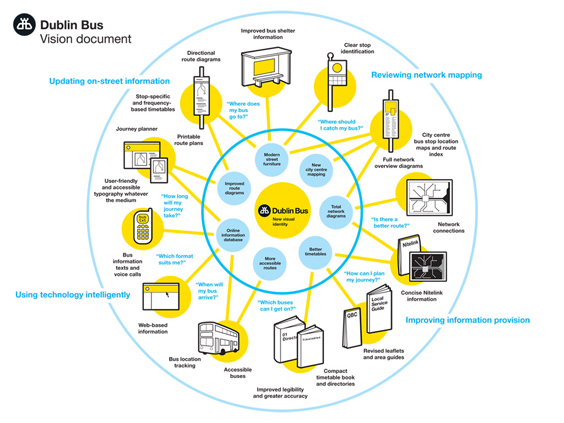 Buses are the principal mode of public transport in the Irish capital. Customer information is key to the user experience as well as sustainable use of the network, particularly in understanding routes crossing the river Liffey. As creative director at Applied Information Group in 2008, Malcolm Garrett collaborated with Dublin-based Image Now to direct a complete overhaul of the information Dublin Bus provides its customers, from network diagrams to bus stop timetables, as well as printed and digital information in multiple channels.